We have already lost. We have passed the apex and now just need to accept the fact that the faceless, conglomerate, bastard, puppet-masters have won. We are all but pawns in their game, and we no longer have any control over how this plays out. It has already PLAYED out. All the pieces have been dropped into place, and we all sat back and barely made a whimper, ultimately allowing it to happen. The Illuminati ARE in control. The elite agenda has finally been all but fully realized.  With the NSA and big brother firmly in place, they have won. Stripped of the freedoms you somehow still believe you have, replaced by a police state that we encourage by embracing the technology and societal changes we should be shunning. So when will it stop? It won't. The last few years set the gears in motion, and in the next few, we will see this all come to full realization. SO what changes are impending? What ways are we going to get f*cked further into submission in 2015? How will the elite finalize their ideals of a New World Order? We suggest only the bravest of you read on. Shit's gonna get ugly. We should say "uglier."
Further Militarization of Localized Police Forces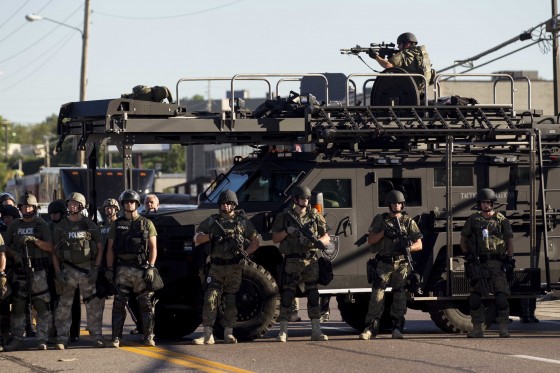 The guys who once were meant to protect you are now armed to round you up like swine and grind you to paste.
Lambs and sheep, the lot of us. Waddling around, chomping on grass, fully unaware our Shepard is a bastard leading us to the edge where he intends to push us off. This is where it started. The elite tested us by militarizing local police forces. Giving them tanks, body armor, and armored vehicles with holes to pop automatic heavy machine guns through (to mow down mass numbers of people safely, sort of like how we cowardly engage in modern warfare).
Though this should have set off alarms in many people (why are those payed to protect me suddenly suiting up like armies as if WE are the enemies, even though WE help pay their salaries), no one did shit. And when pics and vids came out of Ferguson cops aiming their guns at unarmed people and journalists, what happened?
Nothing.
We took their test run like a bitch and proved what we will do when they come to fully unload on us. We proved we would lay down and die. Nice. Expect to see more of that.
This will also lead to….
Internment Camps for Americans
While it could be said we may not see these put into use until 2016 or 2017, the truth is, no one knows. All we know is these things are popping up everywhere, and again, no one is saying SHIT! Why are prison camps being built within the U.S are why are its residents not being alerted as to why these are being added to the local infrastructure?
I will tell you why. Number two on this list goes hand-in-hand with number one. The militarized police will be the ones who come around and take us from our homes to usher us into our "new homes". Anyone who wants to argue this just has to remember we did this to the AMERICAN Japanese after WE blew them up. We have already shown we are fully capable and this is where things are heading again.
But for what purpose? That's the beauty of it. We don't know yet, but we know for sure there is nothing we can do but wait at our doors like good little sheep for them to round us up for the slaughter.
Mass Drugging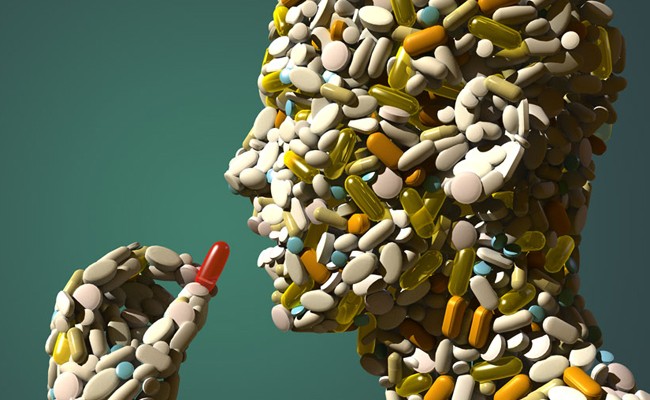 This is your life
This one has long since started, and is pretty much realizing its saturation point. Want to know something f*cked up? One in three Americans are now hooked on some sort of psychotropic drug, convinced something is wrong with them (just because they feel things). Now what you need to keep in mind is drugging the masses into zombie like "patriots" is pretty much the idea behind MK Ultra, albeit with different clothes on.
Feed the masses their SOMA (like predicted in Brave New World, decades ago) and make them into unfeeling, unthinking, creatures who do exactly what their are told when they are told it. That is some scary shit, yet is happening widely. You guys do remember the last time Mk Ultra was used to try to control masses and turn them into slaves, right?
Maybe in 2015 we can expect something like this on an even bigger scale. They have a society that have hooked on drugs. Question is, what happens when THEY choose to stop giving those drugs to us, or what do they intend to do with us next? It's only going to get worse.
Celebrity Weapons of Mass Distraction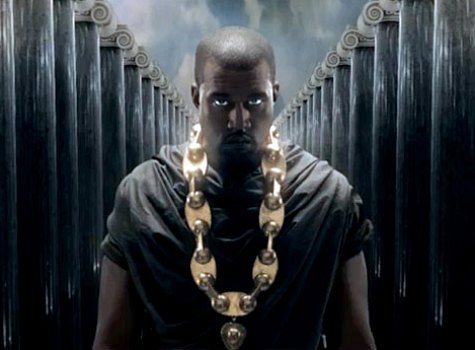 "No one man should have all that power. The clock's ticking I just count the hours…."
So how are they ultimately doing all this? How have the elite and the Illuminati taken over? They have slowly used pop music, pop culture, and celebrity worship. They know the dumb-ass masses want to adore and emulate vapid musicians and actors, so what do they do? They make celebrities and pop stars act as unofficial recruitment. They also use celebrity and our adulation of it to distract us from MAJOR moments of change happening world wide.
Think about how may times in the last decade you have been redirected from world tragedies by something celeb related? So-and-so cheated or this popular young guy got caught drunk driving or released a sex tape just in time to distract you all from the fact that there are strings being pulled and forces manipulated and no one is even seeing it happen. Don't forget, these celebs want that same agenda. They are ALSO the elite, so they will shine on a different tier of existence then most of us once the shit hits the fan.
Homeland Attack (Another False Flag)
Although this is the one that scares people the most and we don't want to admit it, it might be time for us to face it. We have become complacent again (just like we were on 9/10/2001). Keep in mind, this time it's not like we NEED an enemy like we did in 2001 (so we could gain global control over oil). Rather, the elite just want Americans to be scared of something. To THINK they need to rely upon their government to protect them from some great, unseen force. With more and more people seeing the militarization of the police, you can sense people starting to lose faith. So what would pull us right back in?
Something big and important go boom and take some Americans with it.
It's exactly like the move a bully does to some high school nerd when he notices the kid is starting to relax again. We are just about due, wouldn't you say? Ah, the false flag never f*cking goes away, does it? The concept itself, and his refusal to take part in it, cost Kennedy his life, and here we are still dealing with it.
 Bio-Epidemic
Let us NEVER FORGET that when the Illuminati or 'those in control' decide they don't like a sect of the population or think the world needs a quick check against the boards, it pulls out the big guns. We live blissfully, daily, unaware that the ones who control all these awful, vicious, typically population-reducing plagues are the same people who run the f*cking world. Last year, they pulled out Ebola again just to put us in check, and it worked. For a good three months, all you saw on social media was "WE ARE ALL GOING TO DIE FROM EBOLA!"
Here we are much later, very few of us having actually died from Ebola. Don't be too shocked that it was a flop. That is how they disarm us. They lull us into thinking it is all fake. So we over react to the first one, which programs us to under-react to the next one, which may be real. The idea is you are sitting, laughing in front of your Facebook while your intestines slowly liquefy inside your body. You cough up some blood in your hand, but by then, it's too late. Your insides are slowly turning to a tangled mass of ruined organs and rotted, dying tissue.
Or they're just throwing more bait out there for "theorists" like myself to yell about so they can find us and finally have people to put in those Americanized prison camps I already mentioned. Yay Patriot act! And yes, the FDA will probably be involved and be payed not to give a f*ck and pretend it's all legit and safe. Who will survive in America? Kanye (the weapon of mass distraction) was fair in asking that.
More GMO Poison Will Be Force-fed To the Masses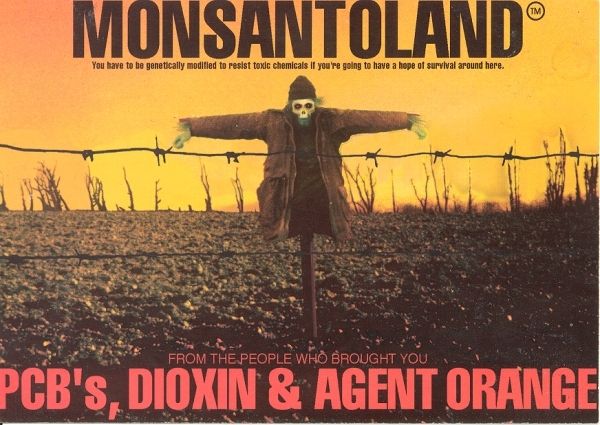 The sad thing is, everything on that poster is 100% true and extremely f*cked up.
Remember, for like half a year the whole world was yelling "stop Monsato!" It was like the population woke up for a second from the Illuminati fog they are usually under and got behind a cause worth getting behind. The mass rejection of the fact that the FDA was allowing what was essentially poison to be labeled as food was a step in the right direction for the masses. File this one under "mass drugging" too, because if you knew some of the poison you were putting in your body, you would know it's no different than the shit they use in warfare. Just on a much smaller scale.
The funny part is, when it got bad enough, the media threw 'African American versus police' at us, and in an instance, we immediately forgot that we were mad about Monsato. We just forgot about the cause almost immediately (exactly like the Kony thing one year earlier), which means more mass-produced poison will be handed out like candy (especially to the poor) and we will just all eat our soylent green and not say a word.
Sit boy. Good dog! Here, have some kibble.
Police Brutality Skyrockets
We started the list out with police and we are ending it with police as well. They say absolute power corrupts absolutely, and we can see that when we look at the violence perpetuated against innocent citizens by brutal cops. If you think that will go down at all in 2015, you will be sadly mistaken (and most likely severely beaten).
First, take a look at the deaths. Eric Garner, Michael Brown, Tamir Rice, and that is just in the last 12 months. Each one as bad, if not worse than Rodney King. If we went back through history,  you would clearly see police violence and what they are allowed to get away with has become more and more severe. Nobody cares. It's only gotten worse since the Rodney King beating, the police have gotten more brutal, and got their hands on some seriously dangerous weaponry. Did I mention they're getting militarized? Oh yeah, I think I did.
Did you hear the recent case of the police crippling an Indian grandfather because they smashed him so hard on the ground, they broke his neck? Watch it here and be prepared to be filled with disgust and fear. The officer who broke the man's neck turned himself in, but we ALL KNOW HOW THIS WILL PLAY OUT. The motherf*cker will be given a PAID LEAVE which is essentially a vacation. He will get in no legal trouble, and this will reinforce all police officers out there that they can do whatever the fuck they want to whoever the fuck they want whenever the fuck they want. This means you. Yes, you. You reading this right now. Just keep that in mind the next time you're out late at night, on some dark road, and you get pulled over at 2 a.m for no reason. Remember what these bastards do for kicks (literally) and remember, dash cam or not, they don't give a shit, and you will lose. Like we said, the evil has won, folks. Pretty clear to see. Pictured below is what happens to American citizens right now at the hands of its police. Sleep well knowing these fuckers are only going to get more violent and vicious in 2015, and WE are the target.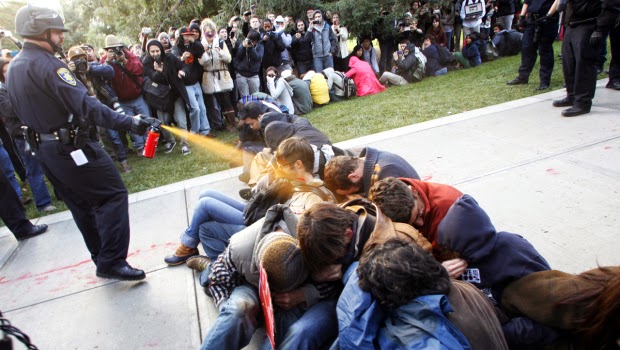 NEVER fuck with the Elite. They own you like cattle.
So you realize as you read this, it's not about what can we do. We are past that. There is nothing we can do. Now, we sit back and wait. The sword of Damocles is hanging over our head, and it is only a matter of time before the blade drops. My suggestions. Make peace with those you love and find peace within yourself. Dark times ahead, and praying don't mean shit to a mushroom cloud and the evil bastards pressing the button.